Car Window Stickers
---
Custom printed Car window stickers
We print car window stickers - your design, your choice of size, shape and colour. Simply let us know what you would like and we'll email over a quotation for you.
Car window stickers are an affordable way to advertise and promote your business or campaign, and get your branding seen!
Window stickers cling or stick to the inside of car windows, design facing outwards, viewed from the outside through the glass.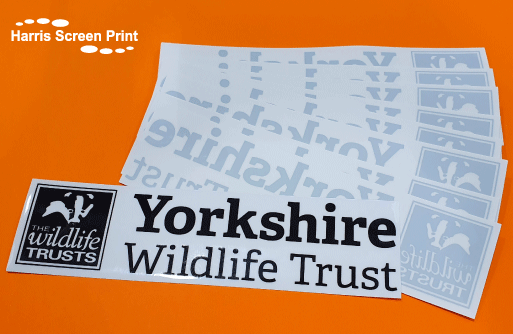 Self-adhesive or Self-cling Car window stickers, which to choose?
Self-adhesive car window stickers are great for long term or short term use.
Available in removable or permanent adhesive.
Permanent adhesive car window stickers stay put really well even if the window is not entirely clean.
Removable adhesive car window stickers are still nice and sticky, but the adhesive is not as strong, so easier to remove if being used for less than 6 months. Both sticker types can be removed, if they've been in place for several years you may need a little soapy water to remove any remaining sticky residue from the glass.
Car dealerships and radio stations tend to go with permanent adhesive car window stickers.
Self-cling car window stickers stay put through static properties alone, so have no stickiness so ideal if you're after easy removable stickers.
The cling car window stickers are great if you want to easily re-position or transfer the car sticker between vehicles, or simply to give the users confidence to display the stickers knowing they can be removed with ease.
Car window stickers used for parking permits, annual membership or event and festival parking tend to go with self-cling car window stickers.
Still unsure? drop us an email, or give us a call, and we'll guide you on the best type of car window stickers to suit your needs.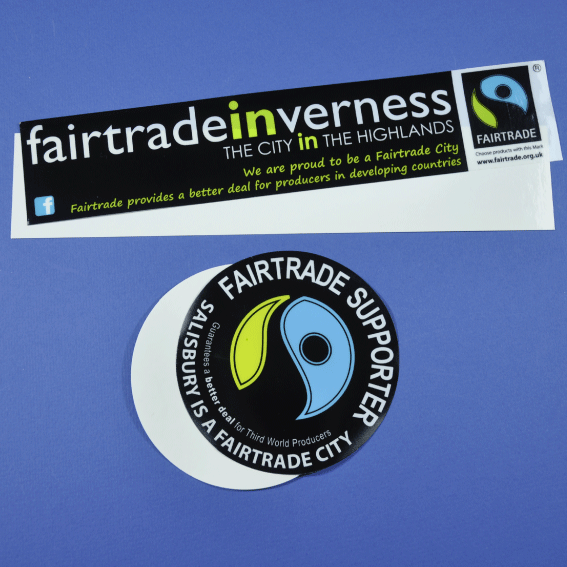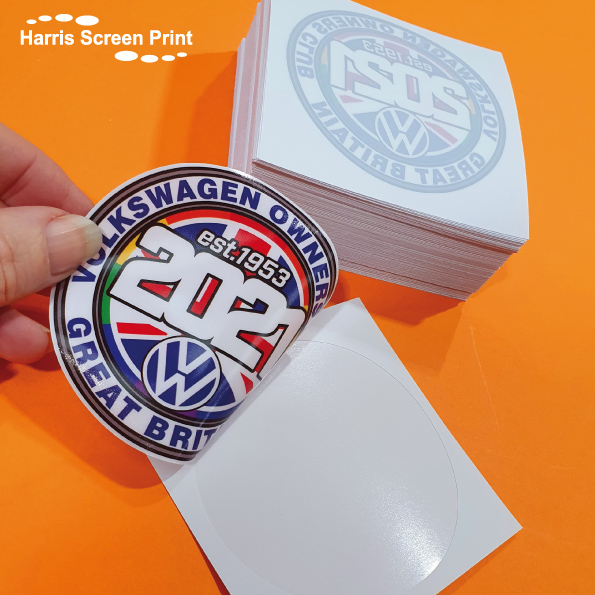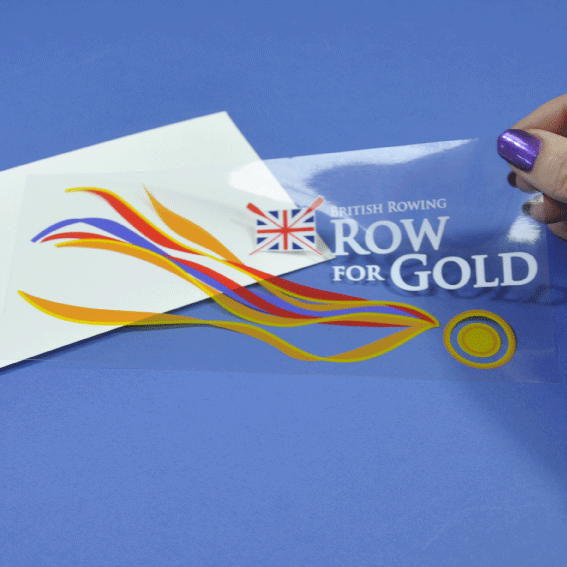 Customised Car Window Stickers, choosing the best size
Your car window stickers can be printed almost any size and shape. As a guide, some of the most popular sizes ordered for car rear window stickers are:
Here's the most popular sizes our clients order for their car window stickers:
Rectangle stickers 250mm x 50mm
Square stickers 100mm x 100mm
Circle stickers 100mm diameter
Need help with designing your custom car window stickers?
Our in-house team are happy to prepare a layout for your car window sticker design – we just need you to email over your logo or image file along with any text you require, and leave the rest to us.
If you're after car stickers to go in car windscreens, such as car parking permits, please click here to jump to our Car Permit Window Stickers Page for more info, or if your stickers are for events or festivals click here for more info.
Or if you would like guidance on creating your own car window sticker design, click here for our recommendations.
Car window stickers are applied to the inside of the car window, design facing outwards
For sticky car window stickers: Car window stickers are printed in reverse onto clear self adhesive vinyl, so that the design appears on the sticky side. White is then printed either over the whole background or as a spot white, so parts of the sticker remain intentionally clear. That way the sticker reads correctly through the glass from the outside.
For full colour self-cling car window stickers: Full colour self cling window stickers are printed design "face up" directly onto white static cling vinyl. They still cling to the inside of the glass, design facing outwards.
The reverse of the sticker backing sheet can also be printed – ideal for competition entries, and popular for car rear window stickers used to promote Radio Stations.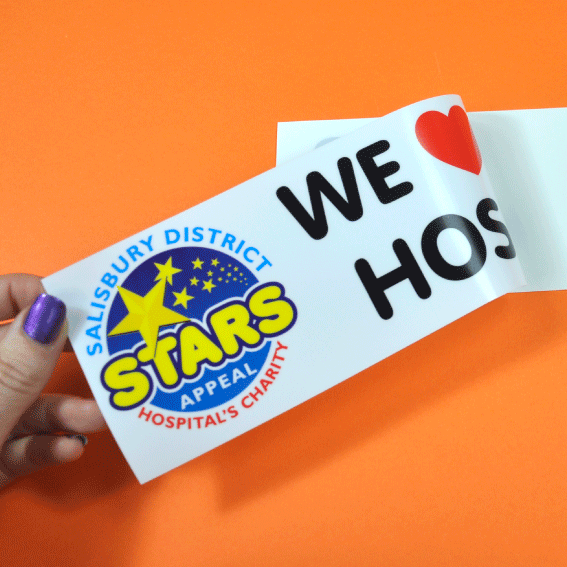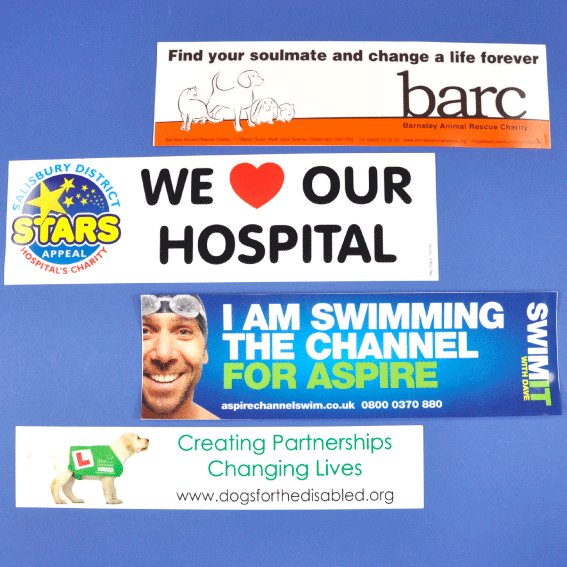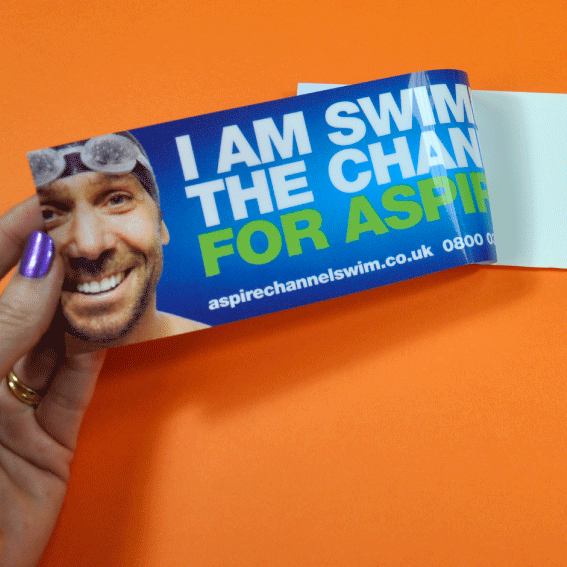 View more of our recently printed car window stickers on:

Want your design on both sides of your car window stickers?
We also print double sided customised car window stickers, so you can have a design viewed from both the inside and outside of the car. The design can be the same or different on each side, ideal for car MOT reminder stickers and car service due stickers.
Here's just a sample of our repeat clients across the UK ...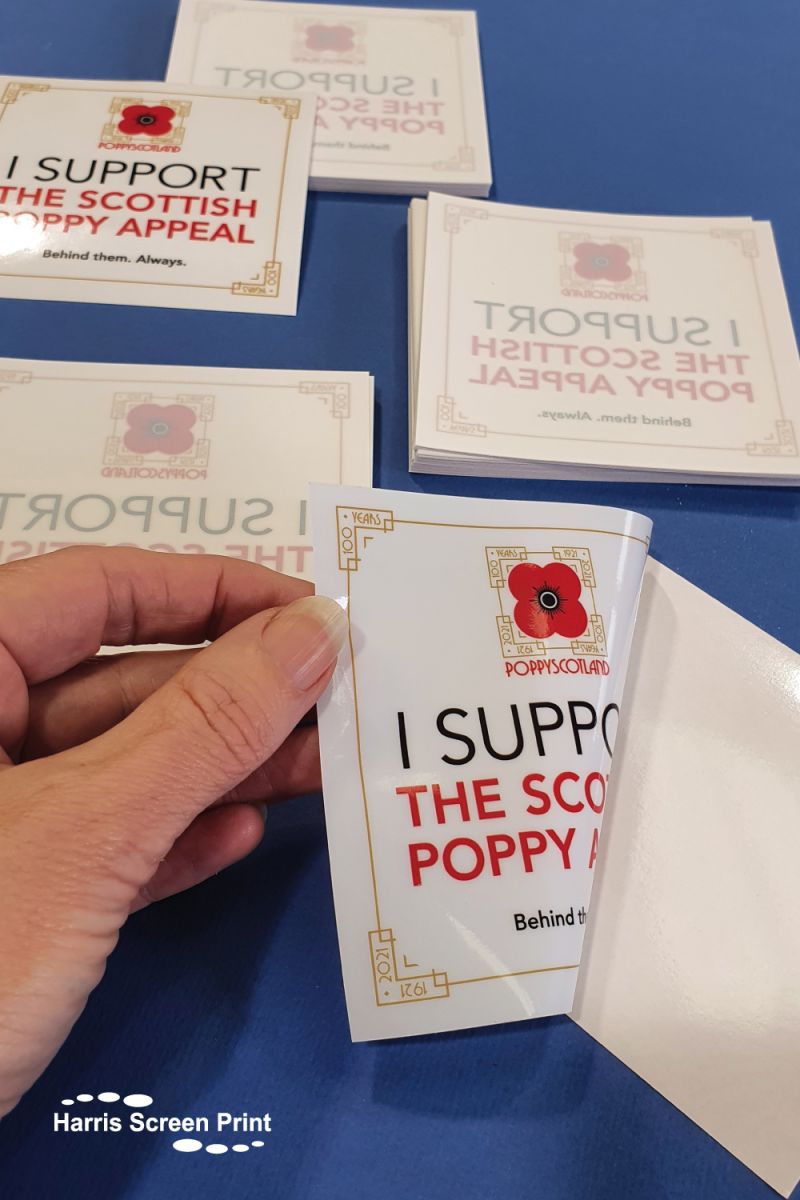 We print all types of Car Window Stickers, including:
Car Rear Window Stickers, Removable car window stickers, Museum Window Stickers, Campaign Window Stickers, Charity Car Window Stickers, Club Window Stickers, Membership Car Window Stickers, School Car Window Stickers, Dealership Window Stickers, Radio Window Stickers, Warning car window stickers, Security window stickers, Service Reminder car window stickers, Customised Car Window Stickers, Personalised car window stickers, Self-cling Car Window Stickers, Promotional car window stickers, Event Car Window Stickers, Festival Car Window Stickers, Customised parking permits, Self cling windscreen stickers, self cling rear window stickers.
We print self adhesive and self cling car window stickers for almost every type of industry you can imagine, with free delivery across the UK, including Museums, Historical Houses, Gardens and Castles, the National Trust, Colleges, Universities, Schools, Leisure Centres, Spas, Hotels, Restaurants, Festivals, Golf Courses, Car Dealerships, the NHS, Local Authorities, UK Registered Charities, UK Emergency Services, Hospitals, Care Homes, Animal Sanctuaries and more.