Car Window Stickers
---
Custom printed Car window stickers
Car window stickers are an affordable way to advertise and promote your business or campaign. Window stickers cling or stick to the inside of car windows, design facing outwards, and viewed from the outside through the glass.
Your choice of size, quantity, shape and colours. Just let us know what you would like, and we will email over a quotation for you.
Our car window stickers are manufactured in Dorset, on the south coast of the UK.
Car window stickers, how sticky are they?
For long term use, we recommend removable or permanent self-adhesive vinyl for your customised car window stickers, ideal to promote garage dealerships, radio stations, visitor attractions and clubs. We use a good adhesive which means your stickers will stay put even if the window is not completely clean or dust free.
For short term or temporary use (such as advertising a festival or event) static cling vinyl and removable self-adhesive vinyl are more popular choices, particularly for car windscreen stickers such as annual car parking permit stickers or annual membership car window stickers.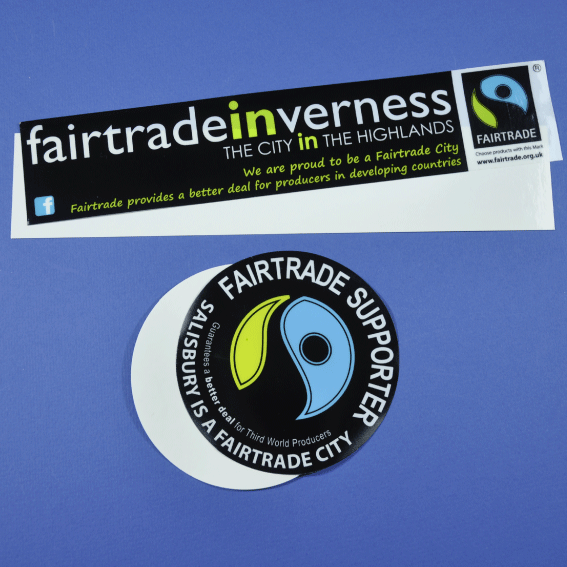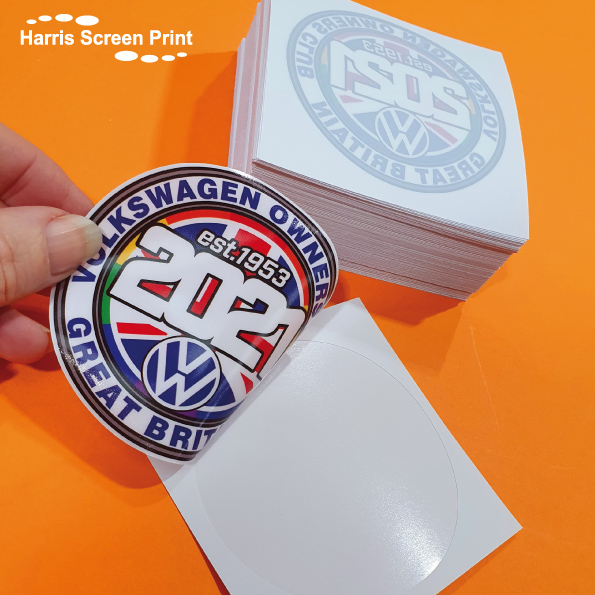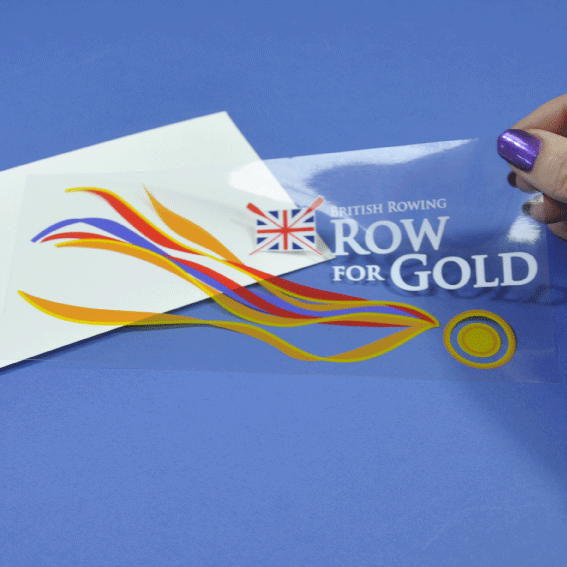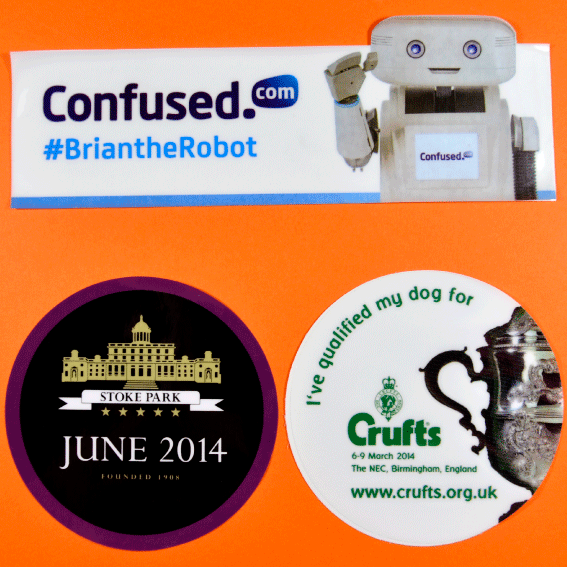 Customised Car Window Stickers printed to your size and shape
Your car window stickers can be printed almost any size and shape. As a guide, some of the most popular sizes ordered for car rear window stickers are:
POPULAR SIZES FOR PERSONALISED CAR WINDOW STICKERS:
Rectangle stickers 250mm x 50mm
Square stickers 100mm x 100mm
Circle stickers 100mm diameter
Don't have your own design? Our in-house team are happy to prepare a layout for your car window sticker design – we just need you to email over your logo or image file along with any text you require, and leave the rest to us.
If you're after customised car windscreen stickers, such as car parking permits (stick on the the inside of the front windscreen and viewed from the outside through the glass) the most popular size is 75mm diameter circle cut. See our Car Permit Window Stickers Page for more info.
Stick or Cling on inside of the car window, read from the outside through the glass
Customised car window stickers are reverse-printed onto clear self adhesive vinyl. White is then printed either over the whole background or as a spot white, so parts of the sticker remain intentionally clear. Or for self cling vinyl, full colour designs are printed design "face up" directly onto white static cling vinyl for you. See our car permit sticker page for more info on our white self cling stickers.
The reverse of the backing sheet can also be printed – ideal for competition entries, and popular for car rear window stickers used to promote Radio Stations.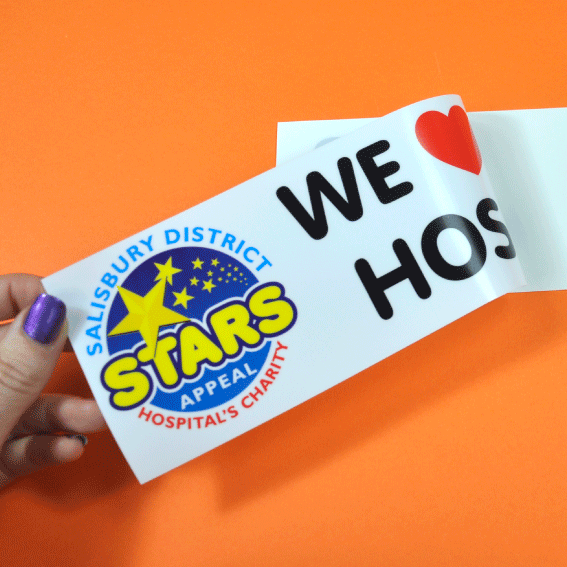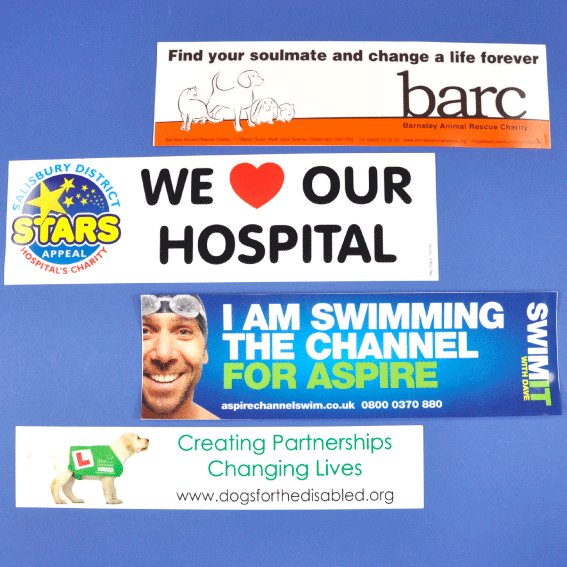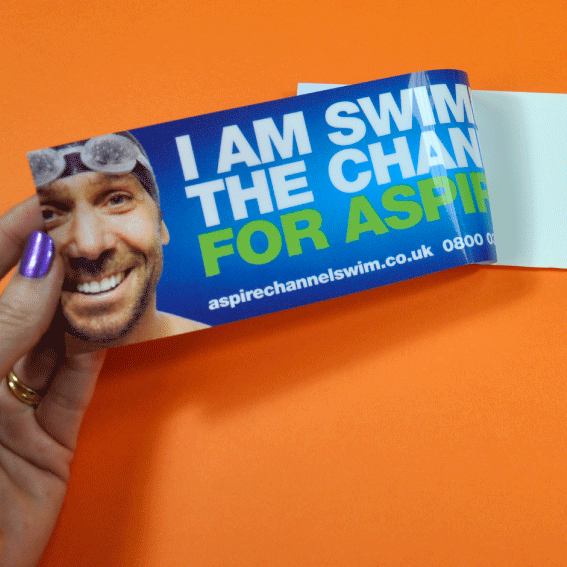 View more of our recently printed car window stickers on:

Want your design on both sides of the car window sticker?
We also print double sided customised car window stickers, so you can have a design viewed from both the inside and outside of the car. The design can be the same or different on each side, ideal for car window MOT reminder stickers and car window service due stickers.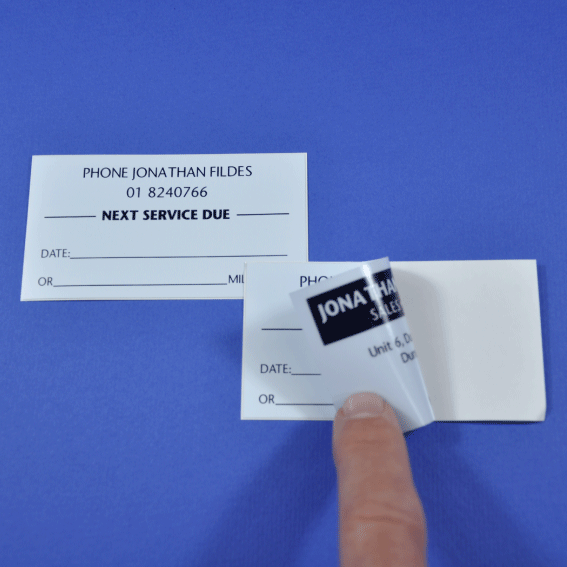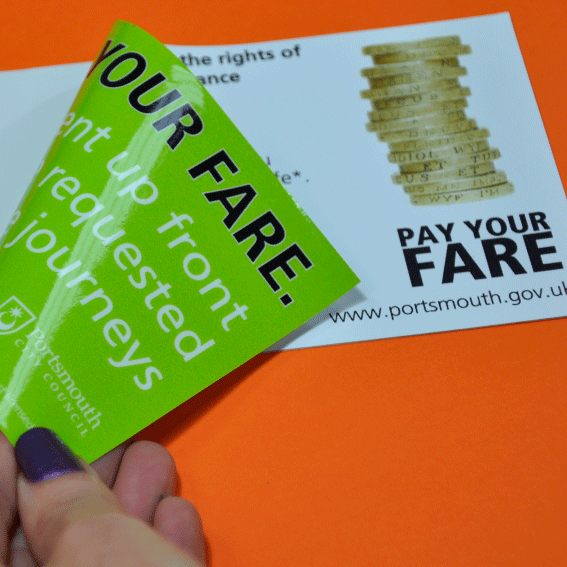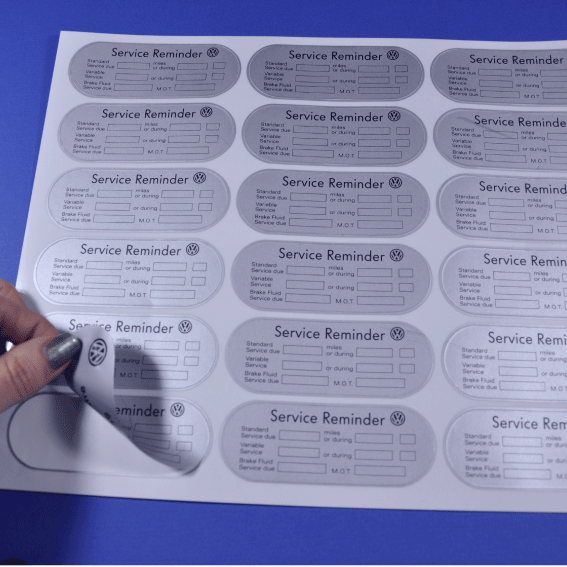 Need inspiration for designing your custom car window stickers?
Is this your first time ordering custom car window stickers and don't know where to start? We can prepare a sticker design layout for your at no charge, all we need is your logo/image file if you want to use one, along with text and preferred colours, and we'll do the rest. We know what stands out well in car windows so if it's impact you're after, give us your brief and we'll do the rest to make sure your car window stickers pack a punch.
CLICK here to see our guide to what makes a great car window sticker design.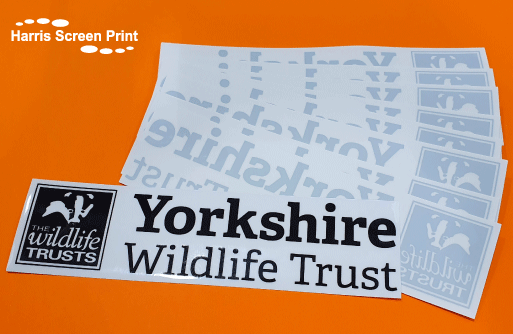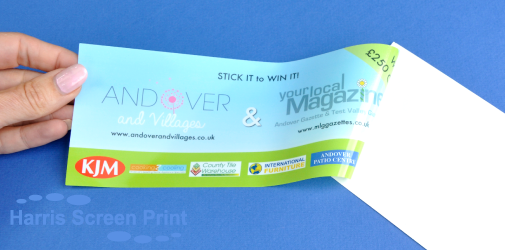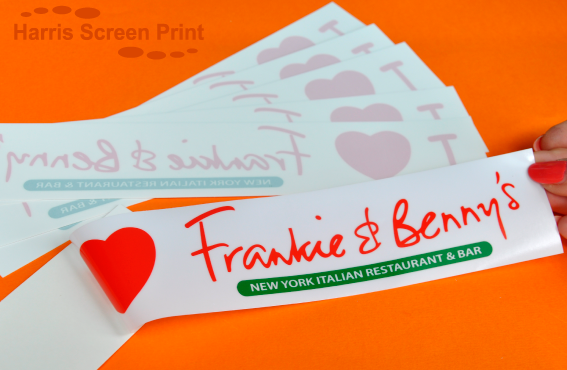 Want something different, then go for Car Bumper Stickers?
If you are worried about your car stickers not showing well through dark or tinted glass, why not opt for our Outdoor Waterproof Car Bumper Stickers, which stick on the outside of cars and vehicles. Our car bumper stickers are very durable and long lasting.
If your window stickers are for Event or Festival Parking, then click here for more information.

Our recommendation ... keep your custom car window sticker design simple with a white background for maximum impact. Here's the artworks and you'll also see photos of the actual printed stickers if you scroll back up on this page.
More examples of our printed customised car window stickers, including Festival Vehicle Pass parking permits, double sided car window stickers, rectangle cut window stickers and round car window stickers.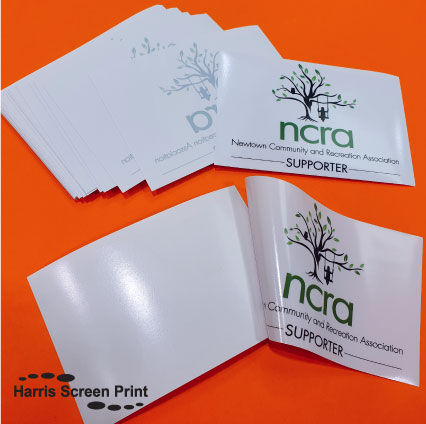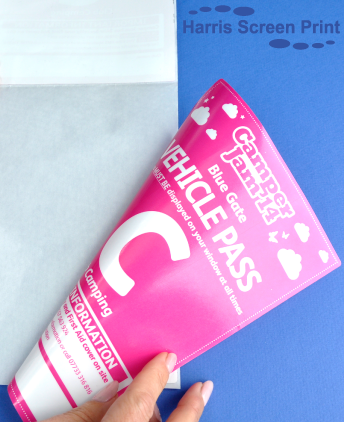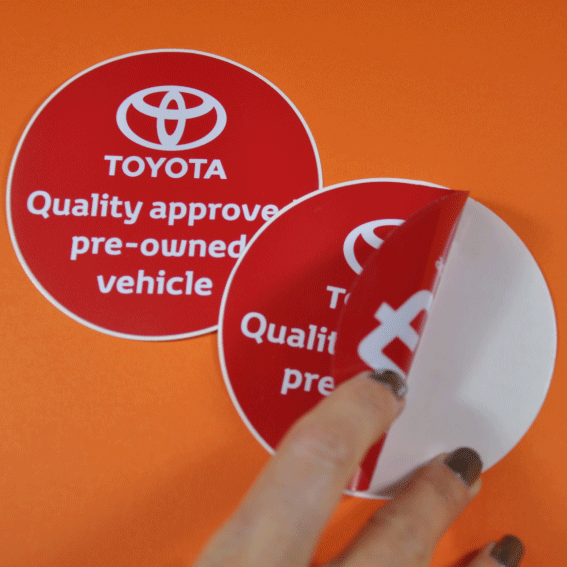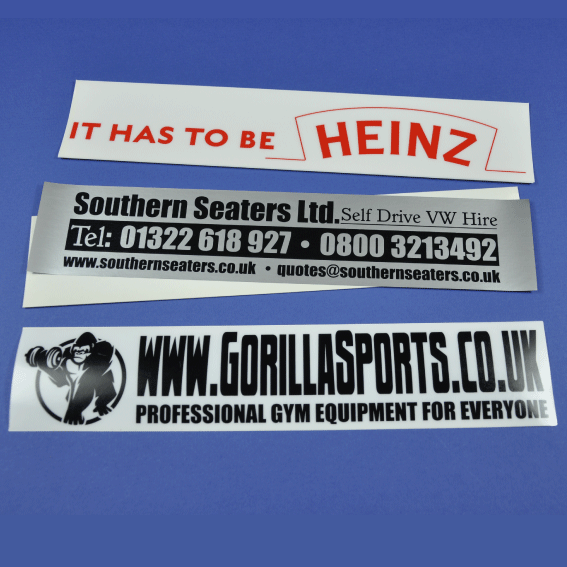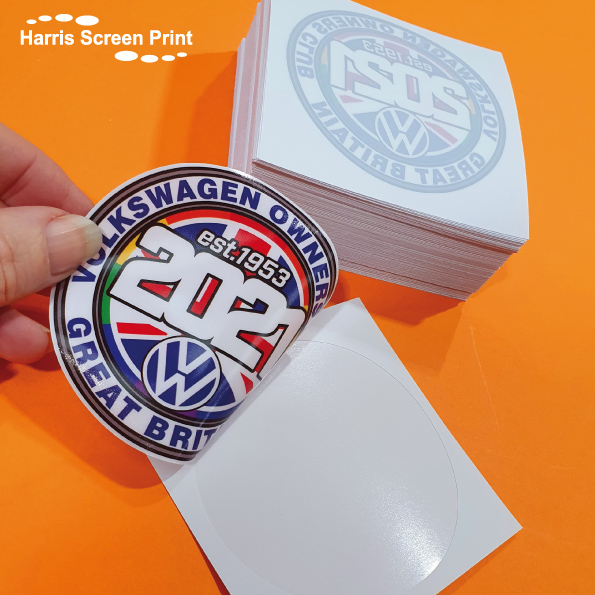 Here's just a sample of our repeat clients for printed window stickers ....

We manufacture customised car window stickers here in on the South Coast of the UK with deliveries across the UK mainland, Ireland, Northern Ireland, Scottish Isles and beyond.
Types of Window Stickers:
Car Rear Window Stickers, Museum Window Stickers, Campaign Window Stickers, Charity Car Window Stickers, Club Window Stickers, Membership Car Window Stickers, School Window Stickers, Dealership Window Stickers, Radio Window Stickers, Warning window stickers, Security window stickers, Service Reminder window stickers, Customised Car Window Stickers, Personalised car window stickers, Promotional window stickers, Event Window Stickers, Festival Window Stickers, Customised parking permits.
We print car window stickers for almost every type of industry you can imagine, including Museums, Historical Houses, Gardens and Castles, the National Trust, Colleges, Universities, Schools, Leisure Centres, Spas, Hotels, Restaurants, Festivals, Golf Courses, Car Dealerships, the NHS, UK Emergency Services, Hospitals, Care Homes, Sanctuaries and more.