Our Guide for Car Window Stickers
---
Sharing our experience
We've had years of experience printing car rear window stickers for our clients, ranging in all sorts of colours, shapes and sizes. So we've put together this guide on how to get the best customised car rear window stickers for your money and for the best impact.
Remember your custom car window stickers will be viewed from a distance, usually at least a metre or two away.
You want your car stickers large enough to get your message and branding across, but also not too large that it may obstruct the drivers view out of their rear window.
Here's what we have found to be the best sizes and shapes for car rear window stickers. The shape will usually be determined by the content you would like in your sticker.
If you would like your design to be mainly a photo, image or logo then a square or circle shape is best:
Most popular circle car window sticker size is 100mm diameter
Most popular square car window sticker size 100mm x 100mm square shape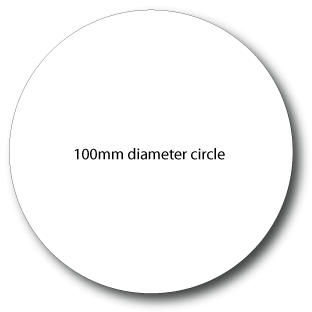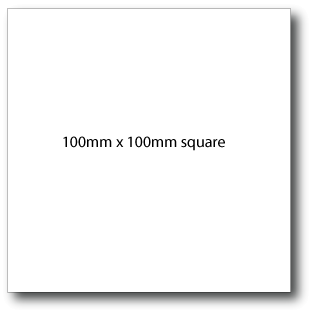 If your wording is equally as important as your image or logo, then we recommend rectangle shape, so there's space for all your wording and the text size is large enough to read:
Most popular rectangle car window sticker size is 250mm x 50mm rectangle shape

If you want to pack a punch with your car window stickers, then go larger at size 290mm x 80mm rectangle shape (very popular when promoting events, festivals and radio stations)

Think about getting the colours right for Impact
Think of how a car rear window looks from the outside looking in. The inside of the car looks very dark, almost black when looking through a car rear window.
So heavy, dark designs should be avoided as they'll have very little impact.
Giving your design a white background allows your overall car window sticker to be really visible, and so have maximum impact.
Think about Content
It's easy to get over excited and include loads of information in your car window sticker, afterall you are paying for your car window stickers to be printed so you want to pack as much information into them as you can, right? Well in our experience that's not how it works.
Too much information and picture overload can look messy, the wording has to be small to fit it all in so you can't really read any of it from a distance.
We've seen countless client artworks where they have several lines of text with their company name, strapline, a quirky one liner, telephone number, mobile number, web address, email address, company reg number, full postal address, a logo and a funky photo in the background. It just isn't possible to get that much information into a sticker roughly the size of your hand that people will be viewing from at least a metre away. That type of detail is best kept for flyers and online advertising.
So here's our top tips for colour and content
If your company name is in your logo, you don't need it to appear a second time in your wording.
If you need to include multiple logos then have one prominent one and the second or remaining much smaller and discreat (a good example of this is a radio station who wants their own logo but need to include sponsor branding on the design too).
Keep contact information to a minimum. If you customers to call rather than email then just include your telephone number. If you prefer your customers to go to your website, then just include your web address on your design (they'll find all your other contact info there).
It's great to include an attention grabbing sloggan, but keep it short, so the size of the lettering can be large and easy to read.
If you are including a photo, then make sure any wording that lays over it is in opposing colours (so a dark photo use white lettering, a light photo use dark lettering).
We are showcasing some of our favourite car rear window sticker designs, chosen because they meet all the above basic principles. They are the right size, shape and have the best impact when in placed in car rear windows. Remember interiors of cars look very dark from the outside, so see with this dark background how great these sticker designs look.
Charity Car Window Stickers - Keeping it simple with a Black and White design and large wording

Radio Station Car Window Stickers - Keeping it simple getting the radio station's branding across without any fuss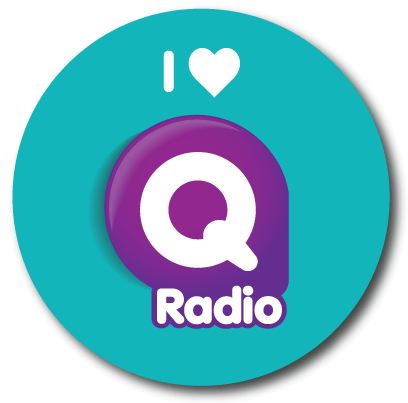 Restaurant Chain Car Window Stickers - Simple and Clear representing the restaurant chain's strong branding

All our car window stickers are supplied on a backing sheet (which can be recycled in regular paper/card recycling). See photo opposite showing the sticker being peeled away from it's backing sheet.
Self cling window stickers stay put through static properties alone, so every grain of dust, dirt or grease will act as a barrier between the glass and your sticker. So we recommend thoroughly cleaning the window before applying your self cling car window sticker. For a quick even application, we recommend applying the sticker to the window when it is wet, as this helps reduce any air bubbles that can get trapped between the glass and your window sticker. The cling window stickers are fully waterproof. If it is particularly cold weather, we also recommend applying your car window sticker when your car has been pre-heated.
Self adhesive window stickers stay put through an adhesive backing, which is available in removable and permanent. The permanent self adhesive window sticker has a stronger adhesive. For both types, we recommend applying your self adhesive window sticker to a clean window which is free from dust, dirt and grease. Unclean windows may result in the corners or edges of the car window sticker lifting off. Self adhesive car window stickers are one-use only, and cannot be re-applied. Once the sticker is removed the adhesive will weaken and it is unlikely it will re-stick a second time.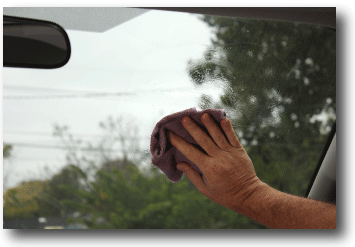 Self cling car window stickers can be easily peeled away from the window without leaving any sticky residue. Self cling window stickers can be re-applied. To re-apply your self cling car window sticker, we recommend washing the sticker thoroughly so that any dirt or dust is removed, before re-applying your sticker. It actually helps to leave the cling sticker wet when applying, as this helps remove any air bubbles.
Self adhesive car window stickers can be peeled away after a few months of application. If they have been in place long term or for several years, you may need to use a small amount of warm soapy water (such as a small amount of washing up liquid) to remove any remaining sticky residue from the window.
We print car window stickers for delivery across the UK, including England, Scotland, Wales, Northern Ireland, and beyond. We print stickers in house so can offer quick turnarounds at affordable prices, and you can speak direct to the printers who will be happy to offer advice and answer any of your queries. We've printed customised car rear window stickers for almost every type of business you can imagine, including charities, multi national big brand companies, banks, UK local authorities, festivals, clubs, radio stations, garages, car manufacturers, retailers, leisure centres, hotels and spas, restaurants, schools, colleges, universities, the NHS, the Police, the Coastguard, Ambulance Services, Fire Services, museums, historical houses and castles, animal sanctuaries, care homes, print suppliers, promotional companies and more.