Custom Car Dealership Window Stickers
---
Promote your Car Dealership with Car Window Stickers
We manufacture customised stickers for Car Dealerships, including car rear window stickers, waterproof car bumper stickers, next service due stickers and MOT reminder stickers.
---
Custom Printed Rear Window Stickers
We print interior car window stickers so your custom design appears on the sticky side, using a strong permanent self adhesive vinyl.
Fully waterproof and fade resistant

Durable long lasting and tear-proof

Easy to apply, simply peel away from the backing sheet and stick on the inside of the car rear window
Choose your own size and shape. We recommend a maximum of 250mm x 50mm rectangles so they can be applied well out of the viewing area of the rear window.
HOW ARE THEY SUPPLIED? We supply your dealership car window stickers cut down as individuals on their own backing sheets.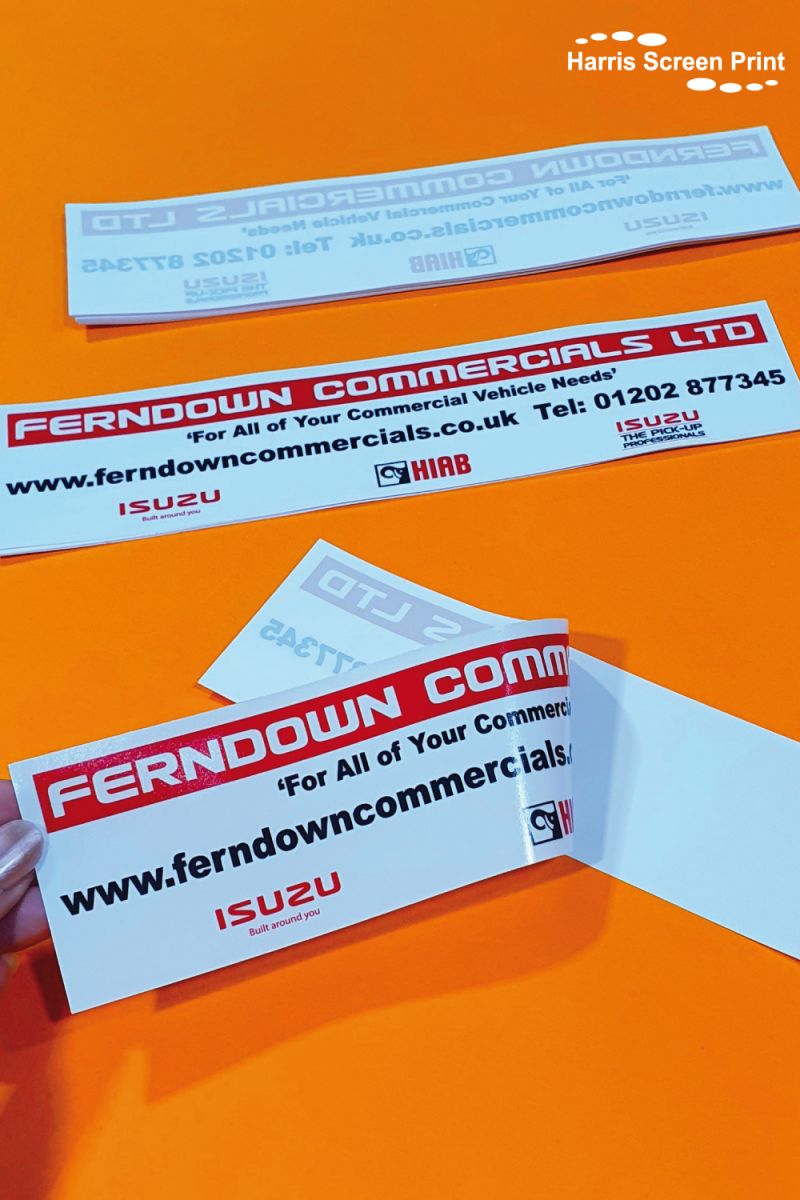 ---
Waterproof Durable Car Bumper Stickers
Our printed car bumper stickers are outdoor grade waterproof and very durable. Car bumper stickers stick to the outside of vehicles on either the bumper, paintwork or outside of the windows.
Waterproof and fade resistant

Durable premium outdoor grade vinyl

Tear-proof and long lasting

Permanent adhesive, so will stay put when the car is cleaned/jetwashed
Car bumper stickers are now the preferred alternative for Dealership personalised stickers, as rear window stickers can often be obscured by car windows which have been tinted.
The most popular size for Dealership Car Bumper Stickers is 250mm x 50mm rectangle shape, which gives you plenty of space to include your logo, garage name, website address and telephone number.
---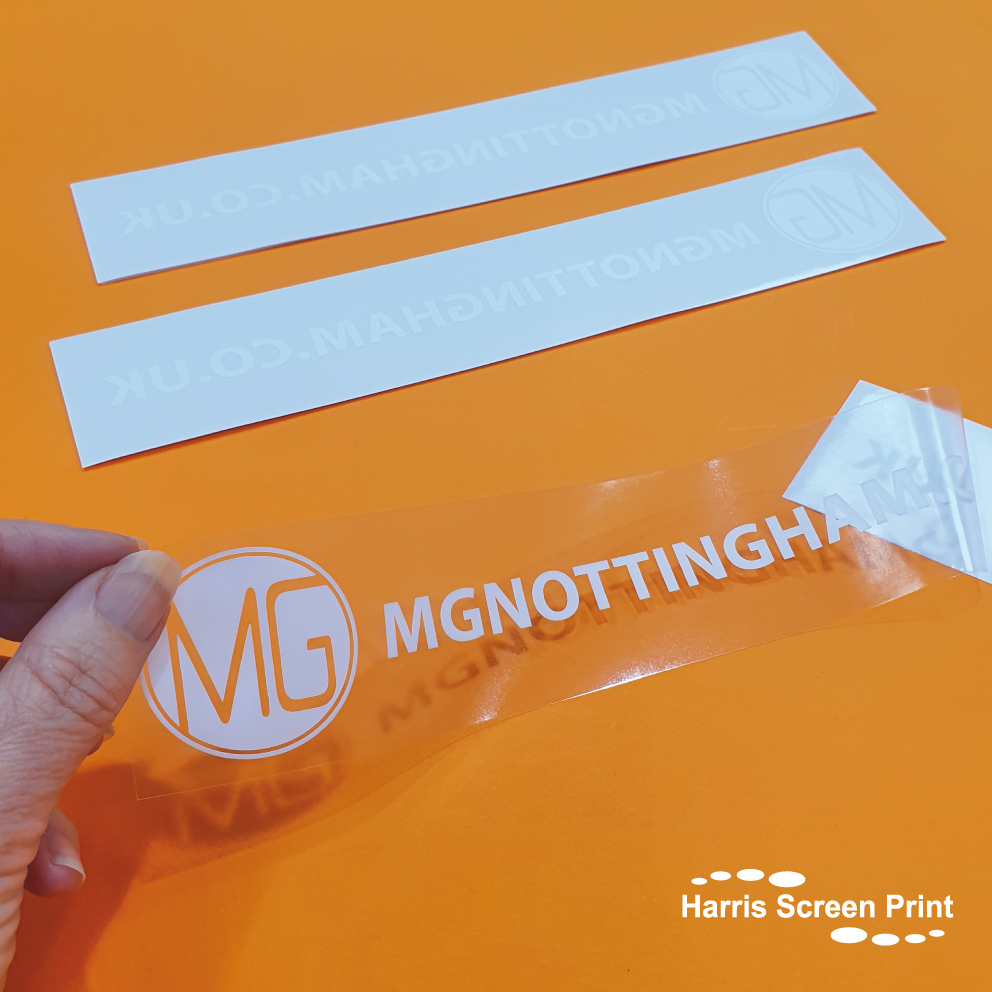 Rear window stickers on CLEAR vinyl
Promote your garage or showroom with Clear car rear window stickers.
We screen print opaque white onto clear self-adhesive vinyl, a great way to promote your business!
Your stickers are printed in reverse, which means your stickers will read correctly when stuck on the inside of the car rear window, design facing outwards.
Your clear car window stickers are cut to your preferred size, adn bulk packed. The most popular size being 250mm x 50mm rectangles.
Quick leadtimes available so you can be sure to receive your stickers in time for your next event!
---
Next Service Due Stickers
Our service reminder stickers and MOT reminder stickers are printed onto self adhesive vinyl and can be written on with a biro or permanent pen.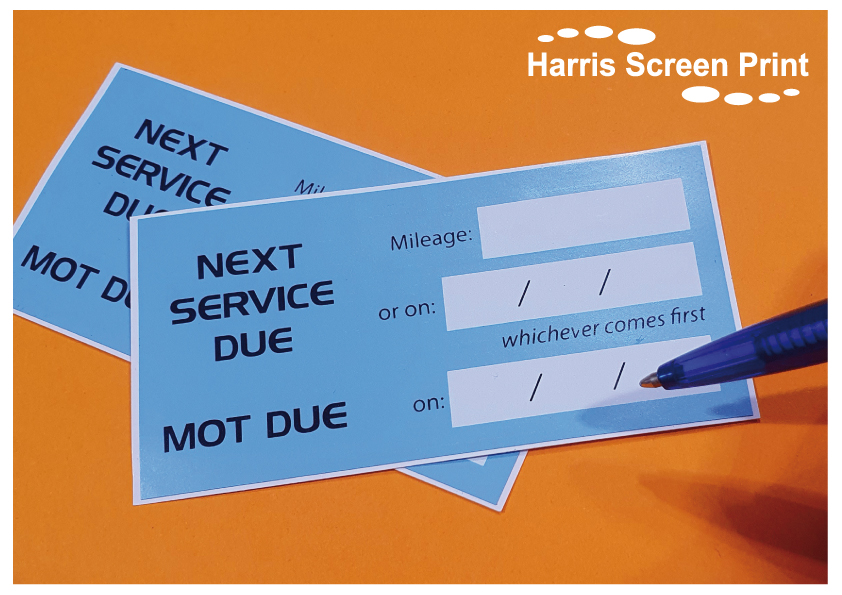 Next Service due stickers
We print single sided next service due stickers which can be stuck on the inside of the cab on either the windscreen, dash or inside the driver door.
Matt finish so they are easy to write on.
These are the most cost effective option for service due stickers, with prices starting from just £70 + VAT.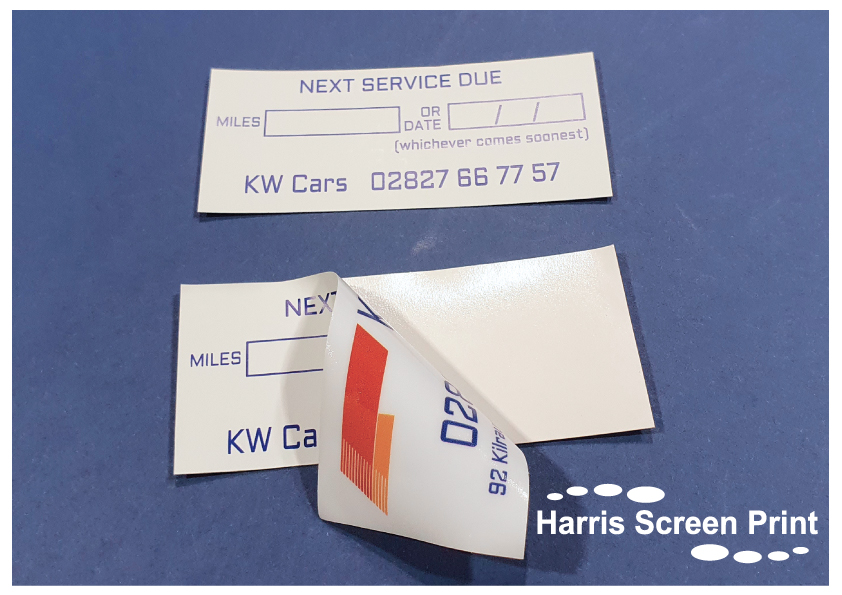 Double sided next service due service reminder stickers
We also print DOUBLE SIDED service reminder stickers, which stick on the inside of the car windscreen.
The outside view promotes your garage dealership, and the inside driver facing view giving details of when the next service or MOT is due.
Both the single sided and double sided service reminder stickers can be written on with a biro or permanent pen.
---
Here's a mix of auto trade stickers including double sided next service due stickers and car rear window stickers.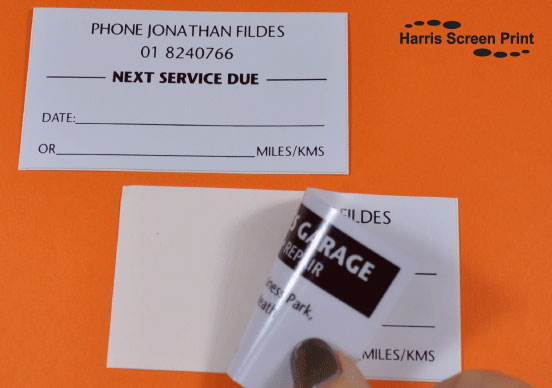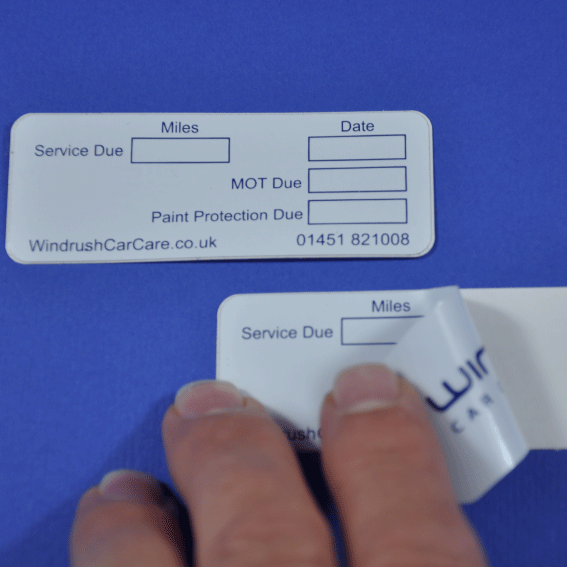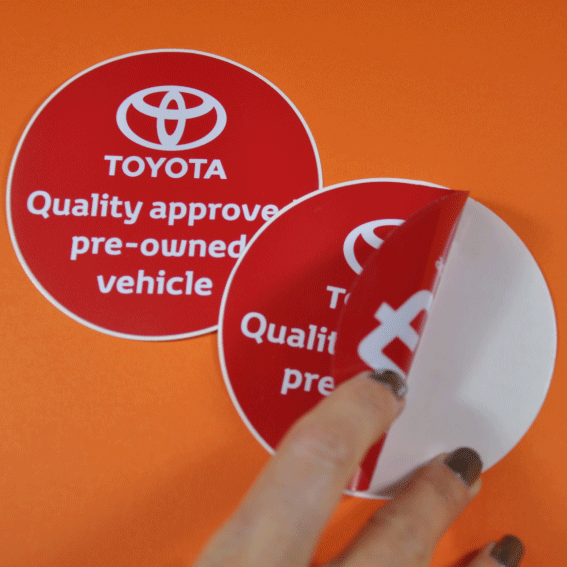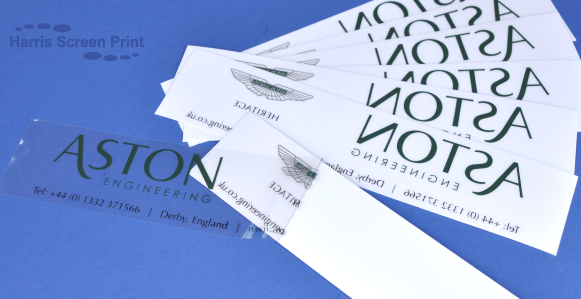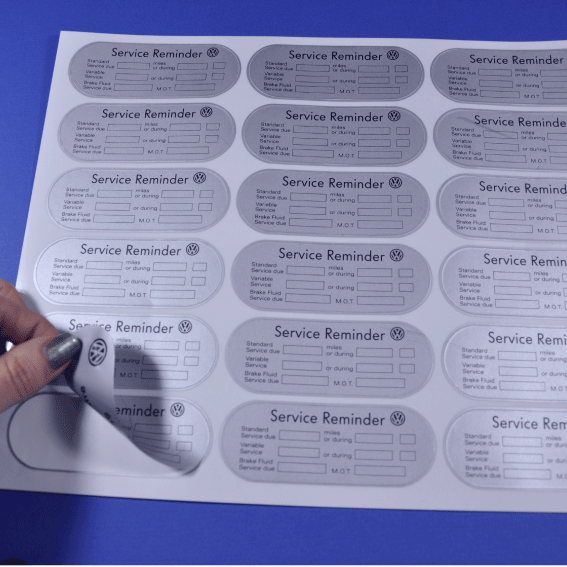 ---
Windscreen Promotional Flashes
Get your forecourt promotion seen clearly with custom auto dealer decals and flashes which stick to the outside of car windscreens.
Custom Printed with YOUR Details

Waterproof and Fade Resistant

Tear Resistant Vinyl

Self Cling or Removable Adhesive Options
Our custom stickers are always made to order, so your choice of colour, wording and include your logo at no extra charge so your winscreen flashes are unique to your Dealership. Minimum orders apply to be cost effective.
Removable self adhesive vinyl which is low tack is the most popular material we use, or you can use static cling vinyl which will stay put providing the windscreens are grease-free and you have not used silicone sprays on the outside of the glass as they will act as a barrier.
Static Cling Window Stickers self cling - No Glue - Re-use them again and again! Our window flashes are fully waterproof and fade resistant so if you go for the static cling option they can be re-positioned, washed down and re-used time and time again.
---

Information Stickers
Custom printed Information Stickers are a great way to re-assure your clients, by clearly displaying key information.
A great example is hygiene so your clients have peace of mind that the vehicle has been sanitised either pre-sale or after a service.
The stickers are completely waterproof and tear-proof, so ideal displaying useful information both inside and outside of the vehicle, from the steering wheel or dash, through to outside of the windows or on the driver door by the handle.
We're happy to prepare designs for you at no extra charge, such as this example which we designed for a UK Car Dealership based in Northern Ireland.
---
Need help with your design?
We're here to help. We've had plenty of experience laying out designs for the Auto Trade and Car Dealers including window stickers, bumper stickers, forecourt windscreen decals and service due stickers. Simply email us your logo and wording you would like on your design and leave the rest to us.