Social Distancing Floor Stickers
---
Order your Anti Slip Floor Stickers Today, with Fast Delivery across the UK
Prices from just £3.40 + VAT per Anti-Slip Floor Sticker

We manufacture Anti Slip Social distancing floor stickers. Ideal for schools, colleges, universities, hospitals, care homes, shops, supermarkets, garden centres, DIY stores, museums, hotels, cafes, bars, garages, factories and other retail businesses and service industries.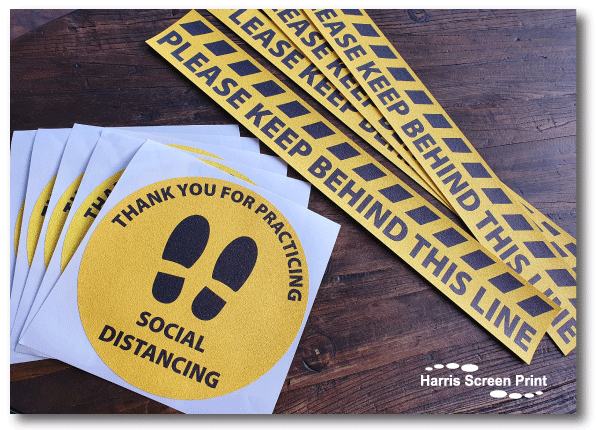 Slip Resistant Social Distancing Floor Stickers
We manufacture slip resistant waterproof Social Distancing Floor Stickers with fast turnarounds.
We are an approved supplier for the NHS, and have printed our slip resistant indoor floor stickers for Hospitals including Alderhey Childrens Hospital, and several UK schools and colleges.
We have a range of stock design Social Distancing Floor Stickers to choose from, or have your own colour or branded design at no extra charge.
WATERPROOF
SUITABLE FOR INDOOR USE
EASY TO APPLY
BUY STOCK DESIGNS OR HAVE YOUR OWN BRANDING
FIRE RATED AND ANTI SLIP RATED
ESSENTIAL FOR CROWD CONTROL AND PROMOTING SOCIAL DISTANCING
IDEAL FOR SCHOOLS, COLLEGES AND HOSPITALS
CLICK HERE to email us with an order or for more information
STOCK DESIGN floor stickers (price £3.40 + VAT each when you order 50 or more)
Our price becomes even more cost effective when ordering 200 or more.
Our social distancing floor stickers are 280mm diameter circles, and available in stock designs as pictured below, or have your own design or branding at no extra charge.
Fully waterproof, apply to indoor hard floors, concrete floors, tiled floors, carpets and laminates.
Easy to apply, easy to clean and easy to remove when no longer required.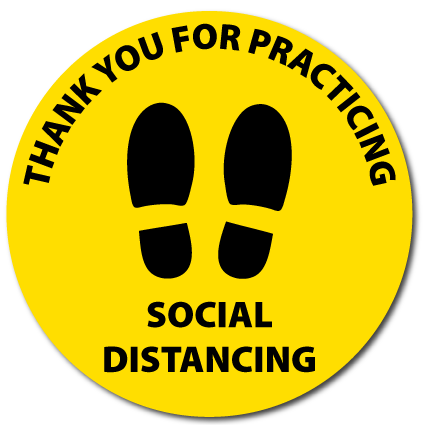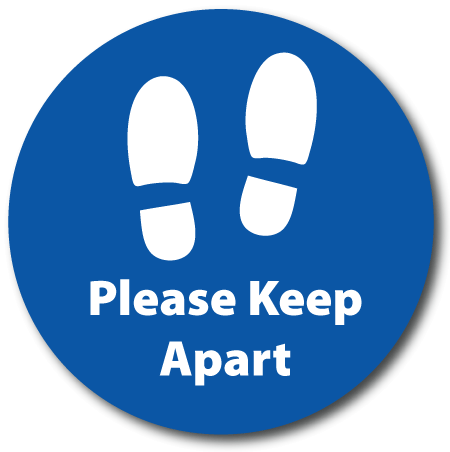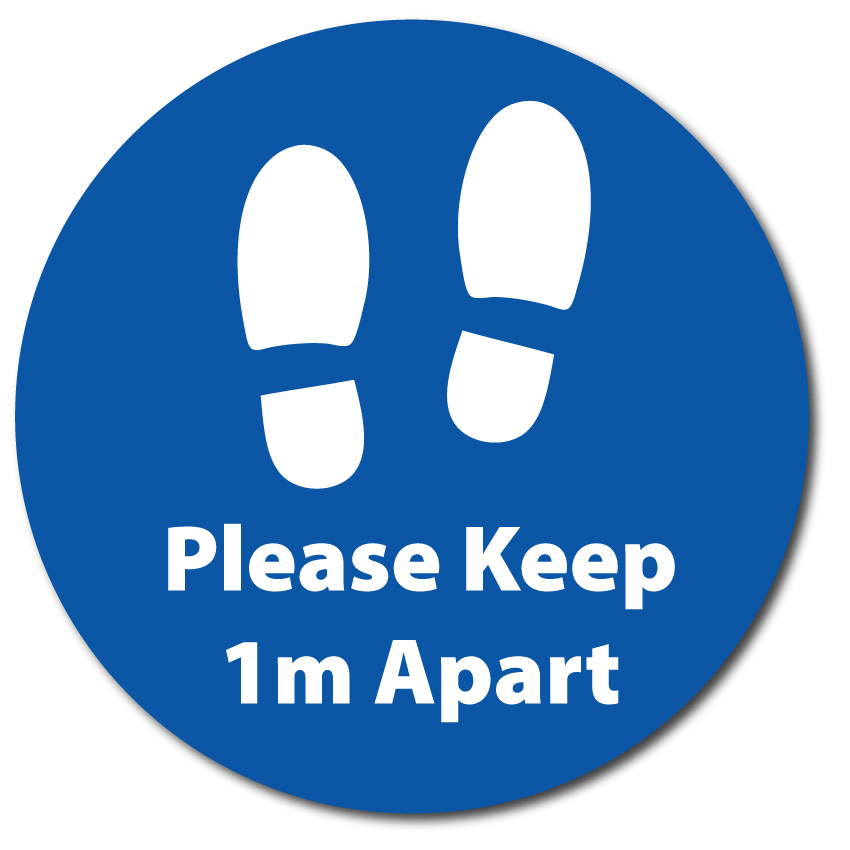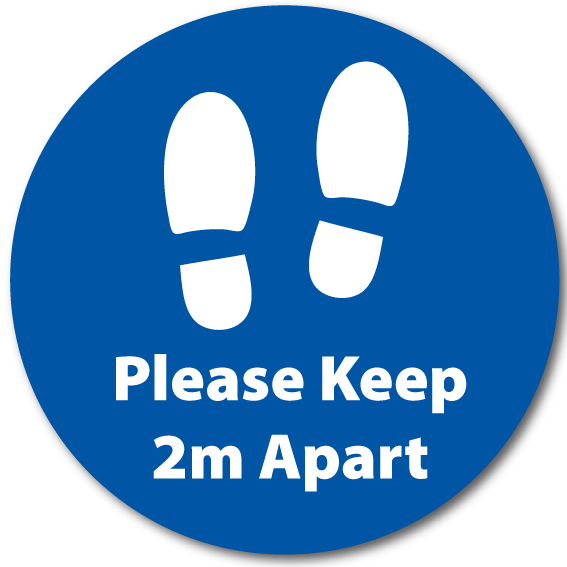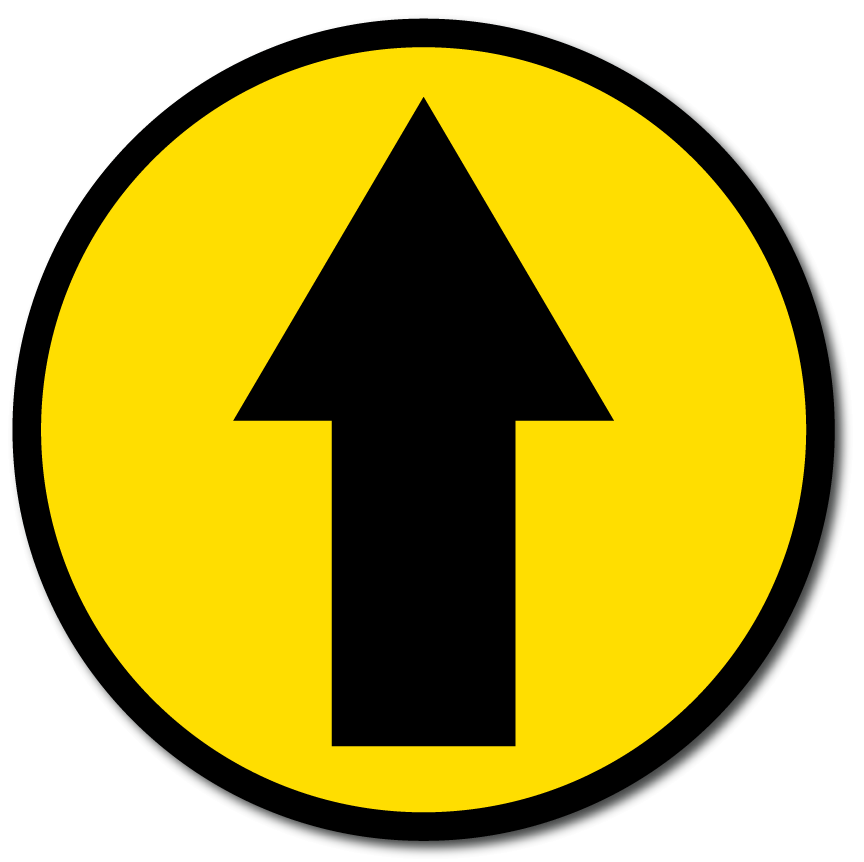 Please Keep Behind This Line Floor Stickers (£4.90 + VAT each, minimum order 20 stickers)

Size: 700mm x 100mm
Colours: Black and Yellow (or choose your own colours at no extra charge).
Our Stock Social Distancing Please Keep Behind this Line Stickers are sized 700mm x 100mm rectangle cut. Ideal to remind your customers to wait in turn, including paying zones, click and collect zones, or areas where your staff are situated.
We also print Social Distancing Window Stickers Self Cling, and Social Distancing Waterproof Stickers for walls. CLICK HERE to see our full Social Distancing Sticker range.
All our Floor Stickers are Fire Rated and Slip Resistance Rated
All our Social Distancing Floor Stickers are R9 Rated for Slip Resistance, and B1 Fire Rated. They are waterproof and durable for regular footfall over several months for indoor application. They are suitable for carpets and hard flooring including concrete, tiles and painted surfaces.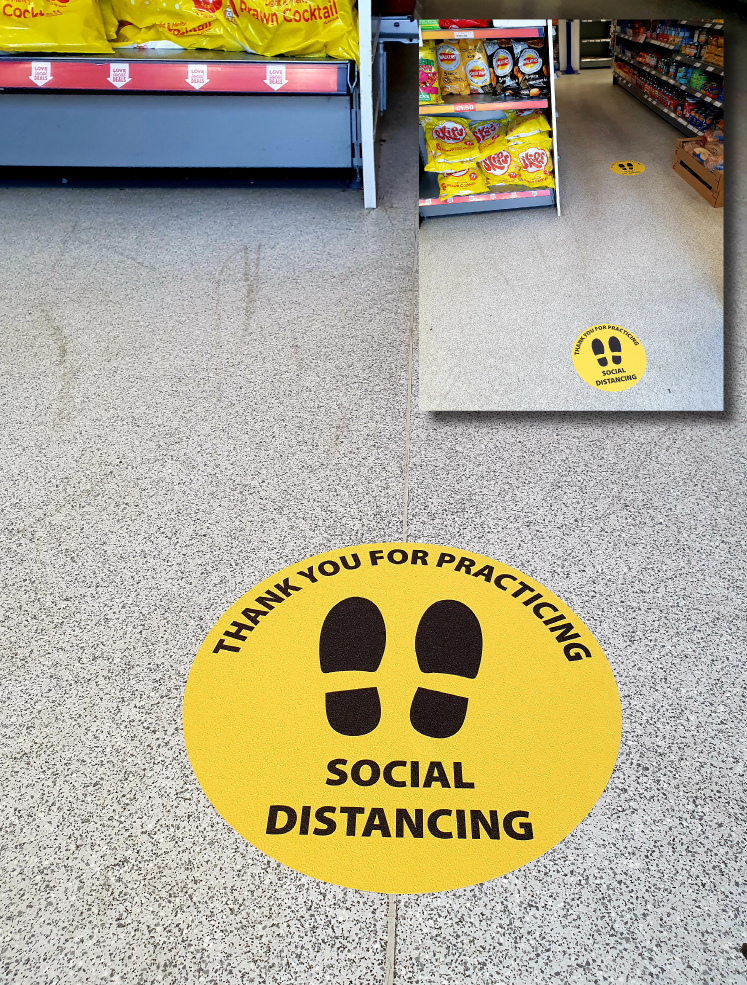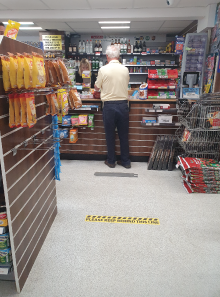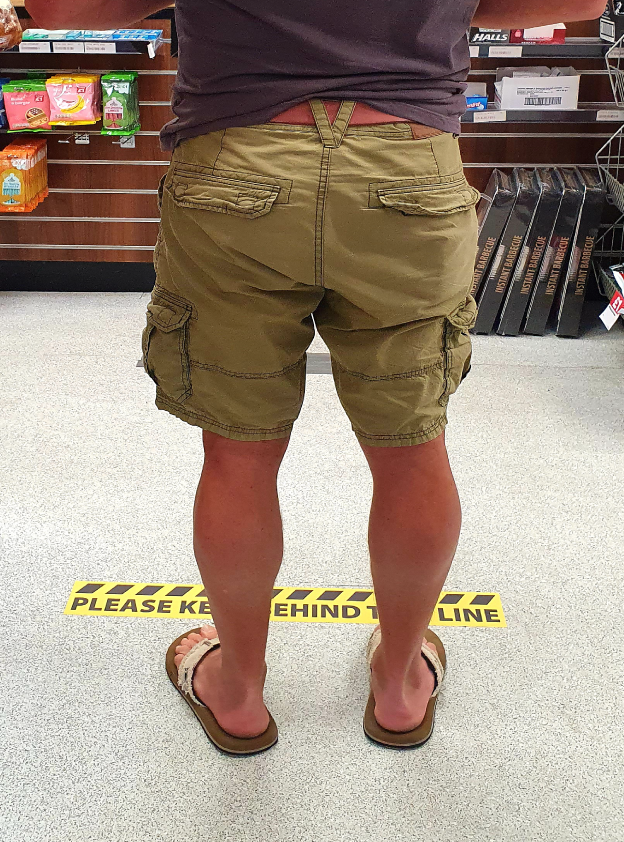 Keep your Distance Floor Mini Marker Stickers
Our Floor Markers are a smaller more cost effective anti slip floor sticker. They compliment one of our large circle Floor Sticker which can be placed just inside your entrance, and then these smaller stickers placed throughout your indoor public areas to reinforce the message throughout your premises.
Sized at 130mm diameter circles, you can have any size, design, text and colour printed.
Our Floor Markers are suitable for all indoor flooring types including concrete, wood, laminates, tiles and carpets.
You can choose a different shape, so if you prefer triangle, arrow, footprint, square or circle, we can manufacture to match your preferred branding.
The markers have self-adhesive backings so they are easy to apply and easy to remove when no longer required.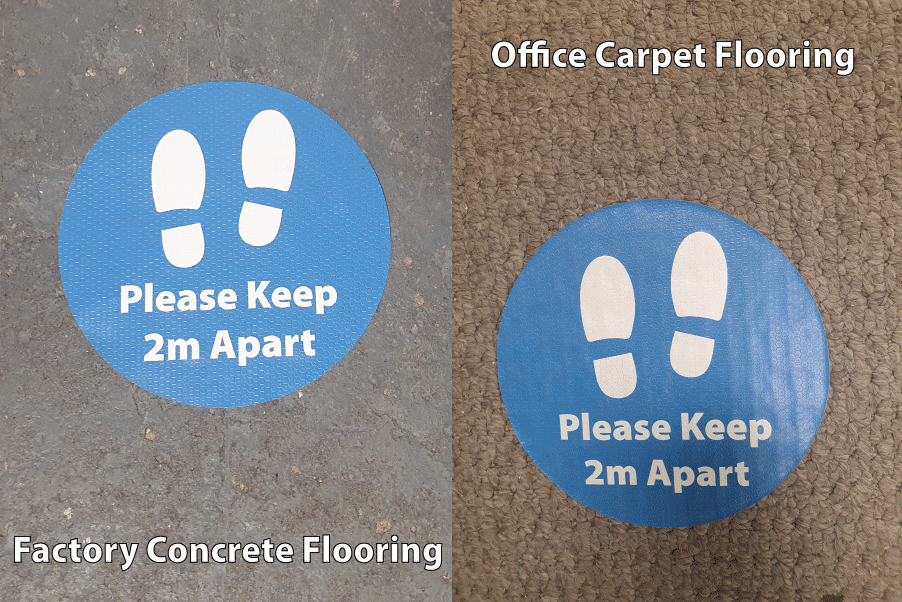 Keeping your staff and customers safe during a pandemic
UK Government guidelines requires schools, factories, museums, schools, colleges, shops and retail outlets to protect staff and customers, which includes managing entry into the premises. Hotels, bars, restaurants and cafes are required to promote social distancing throughout their premises, with wall and floor signage.
By using our anti slip Social Distancing Floor Stickers you are helping prevent the spread of Coronavirus Covid-19, and promote social distancing througout your indoor areas.
Our stock sticker designs include Thank you for Practicing Social Distancing, Please Keep Apart, Please Keep 1m Apart, Please Keep 2m Apart, Please Keep Behind This Line, as well as arrow directional floor stickers.
Crowd Control & Directional Floor Stickers
We also manufacture crowd control and directional floor stickers, including arrow floor stickers to assist with footfall navigation. To find out more about our Directional Floor Stickers, PLEASE CLICK HERE.
Applying your Floor Stickers
Our indoor floor stickers are suitable for application to clean floors in good condition. Our floor stickers can be applied to commercial floor tiles, tight weave carpets, sealed wood, sealed concrete, waxed vinyl, marble and ceramic tiles. Your existing floor sealant, coating or paint should have excellent adhesion to the floor and not be loose, uneven or flaky as this will effect the floor sticker's ability to stay in place,
Before applying your floor stickers, the floor should be clean and free from dust, oil and grease. In order to achieve process-secure application, it is essential that the floor is totally dry and completely free of dust, dirt and other debris before the sticker is applied. We recommend that the floor is brushed/vacuumed before the anti slip floor stickers are applied.
Anti Slip Textured Floor Stickers
This photo nicely shows the texture of our floor stickers which have anti slip health and safety ratings, making them ideal for education and school social distancing floor stickers.
Want to see more photos of recently printed social distancing stickers? see more here